Neta
---
Rungis // 600m²
sectorRetail
---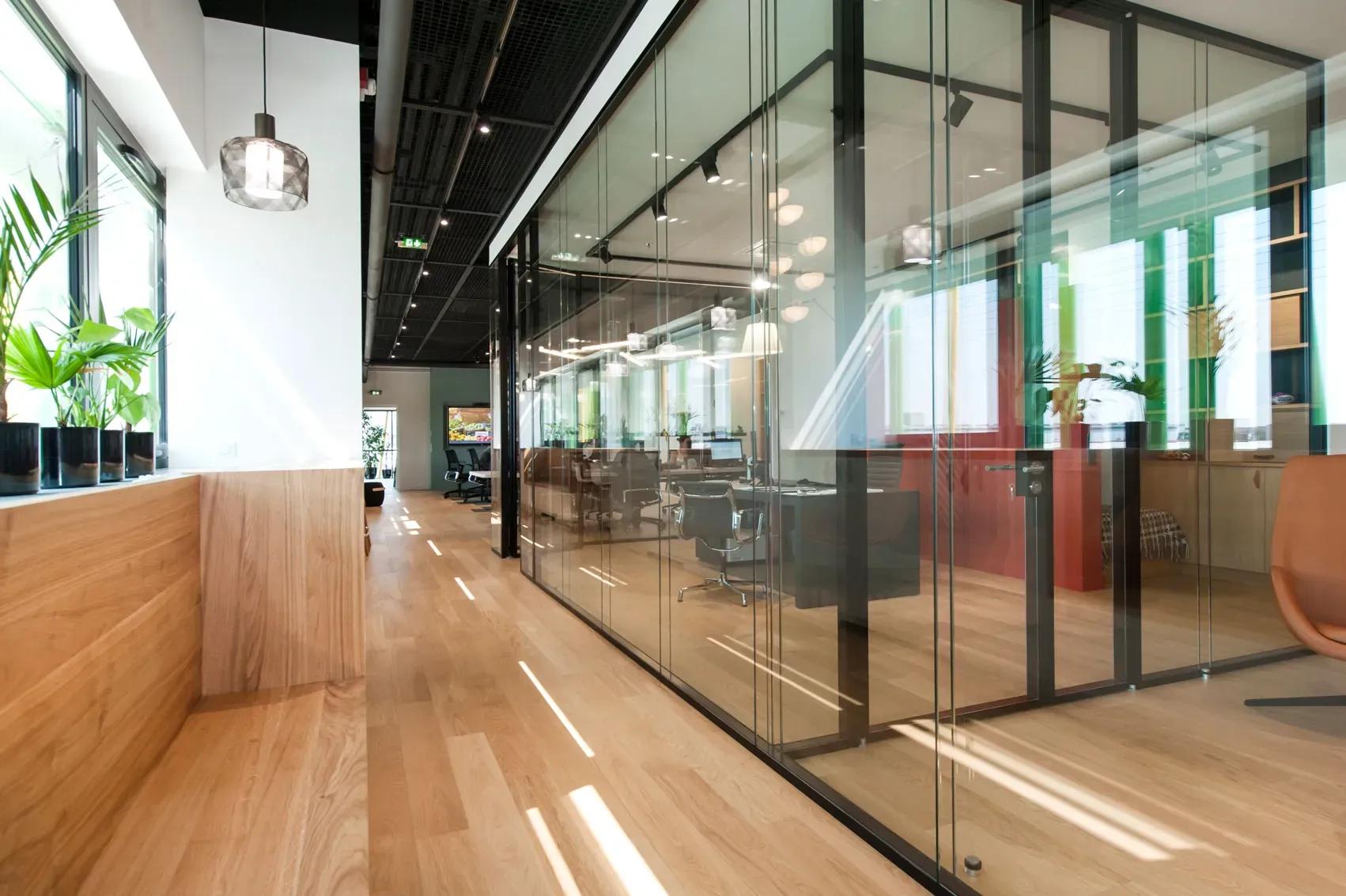 A place between wood and plants.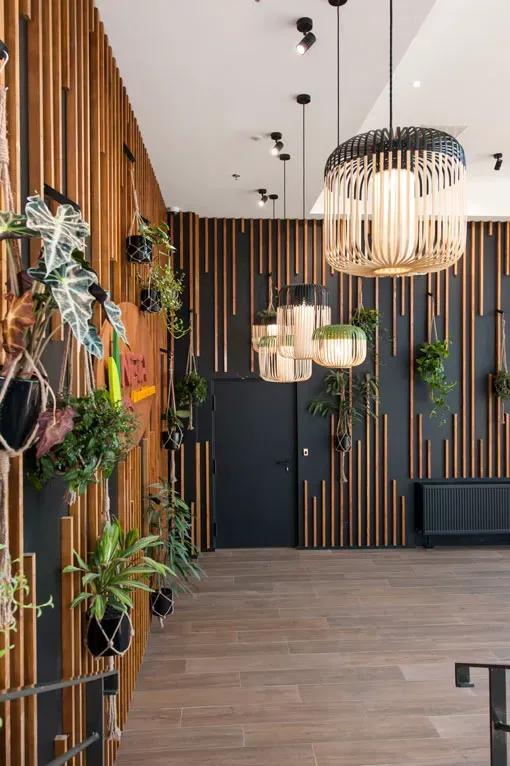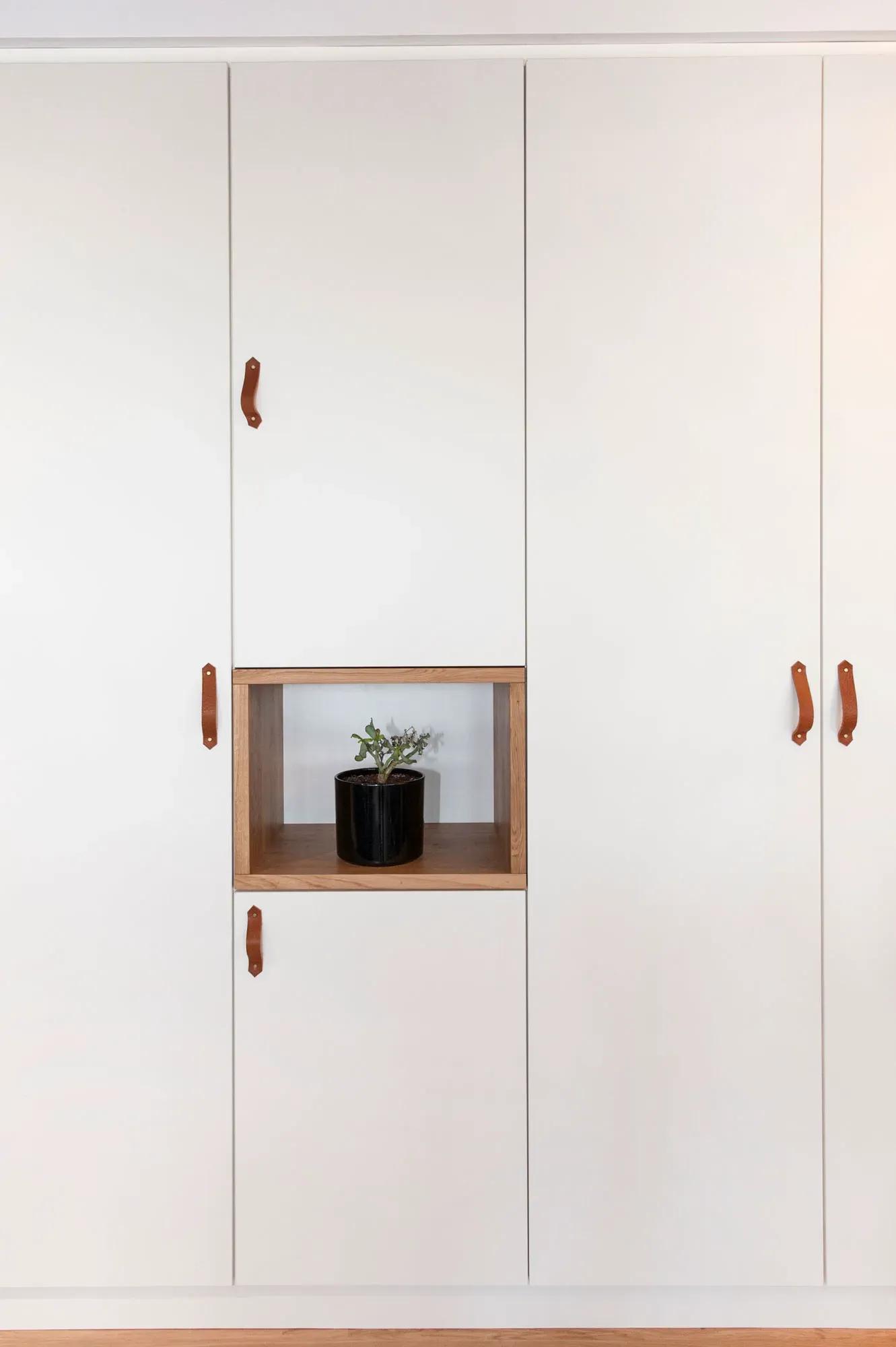 Neta is a company specialized in the import of exotic fruits and vegetables.
Located in the heart of Rungis, the company has set up a 2000m² warehouse including a ripening area and a packing station enabling the fruit to be preserved in ideal conditions to be distributed.
The warehouse project also included a vacant area that would allow the integration of an office space that perfectly matched the company's needs. NETA therefore partnered with Factory to realize this ambitious project.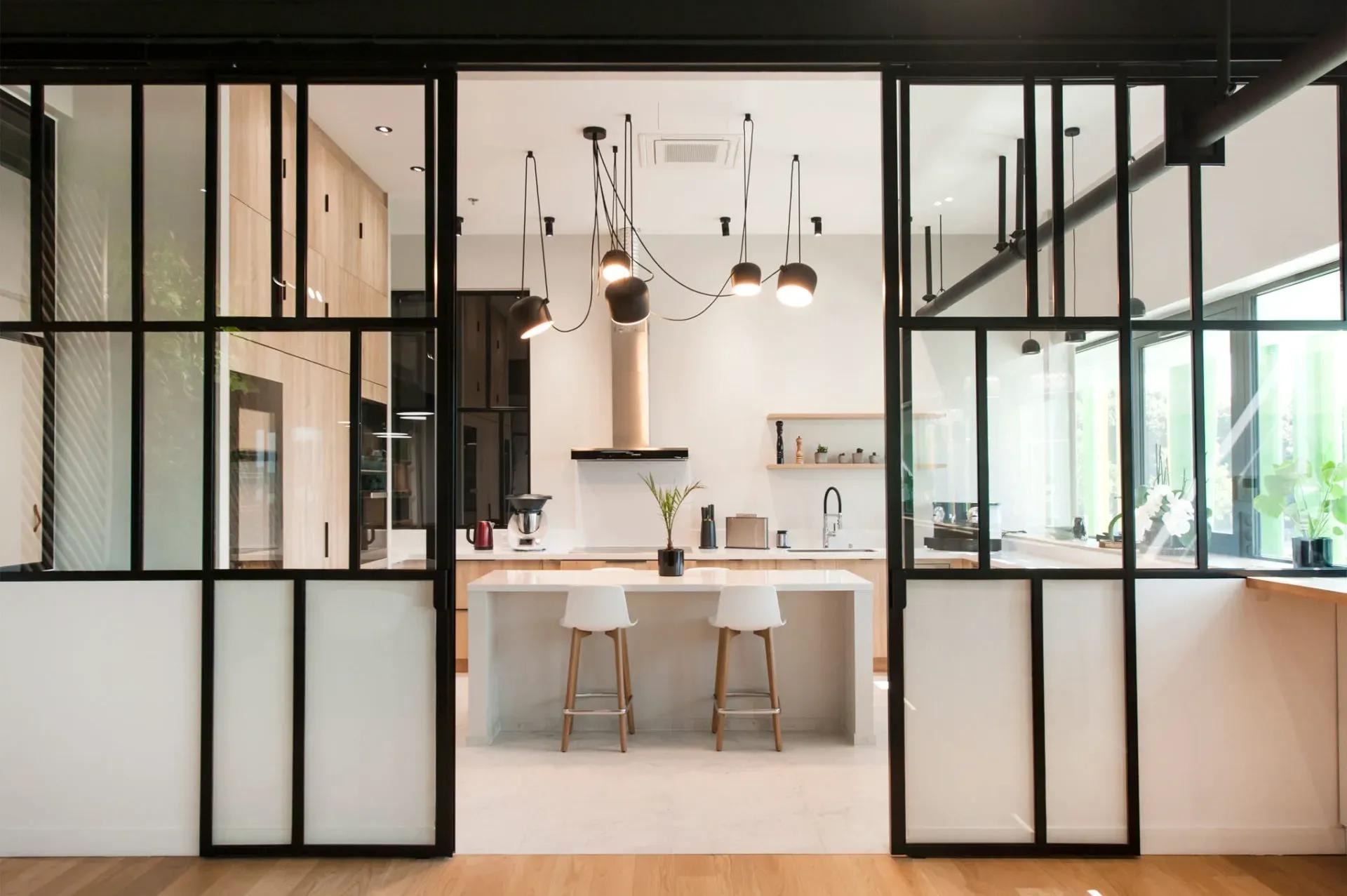 Rungis is the first market for fresh products who is acting globally.
Even though they benefit from an international reputation, the industry is affected by an outdated image and a lack of manpower. Our client NETA, led by a visionary management team, perfectly identified this issue and turned it into a strategic transformation challenge.
How can we differentiate ourselves and offer a working instrument that helps to attract, motivate and keep new talents? How to create a workplace that enhances productivity and efficiency at work? Factory has been assigned to respond to this issue and shake up the sector's standards by providing its expertise and creative vision.
The transformation of a warehouse.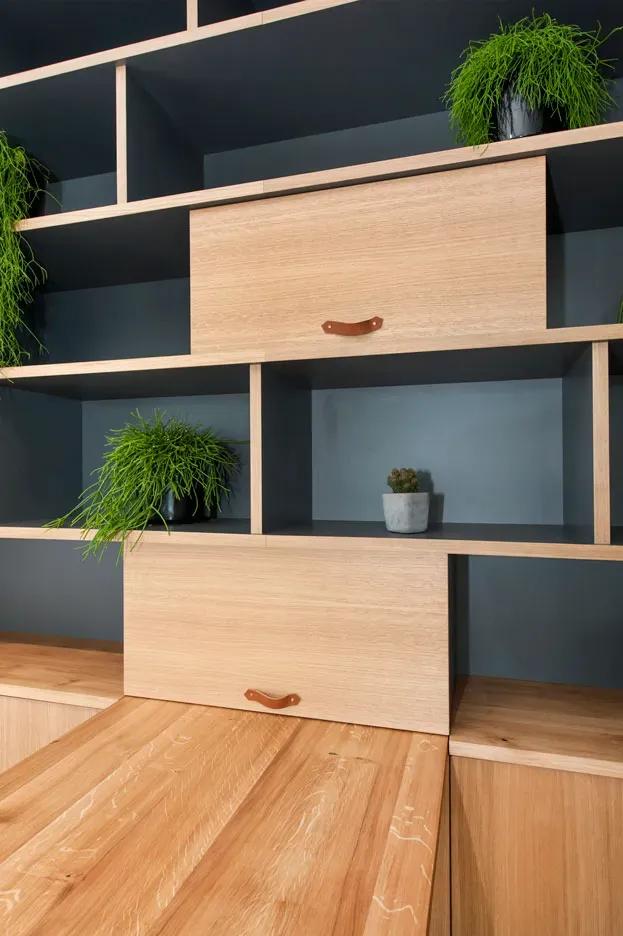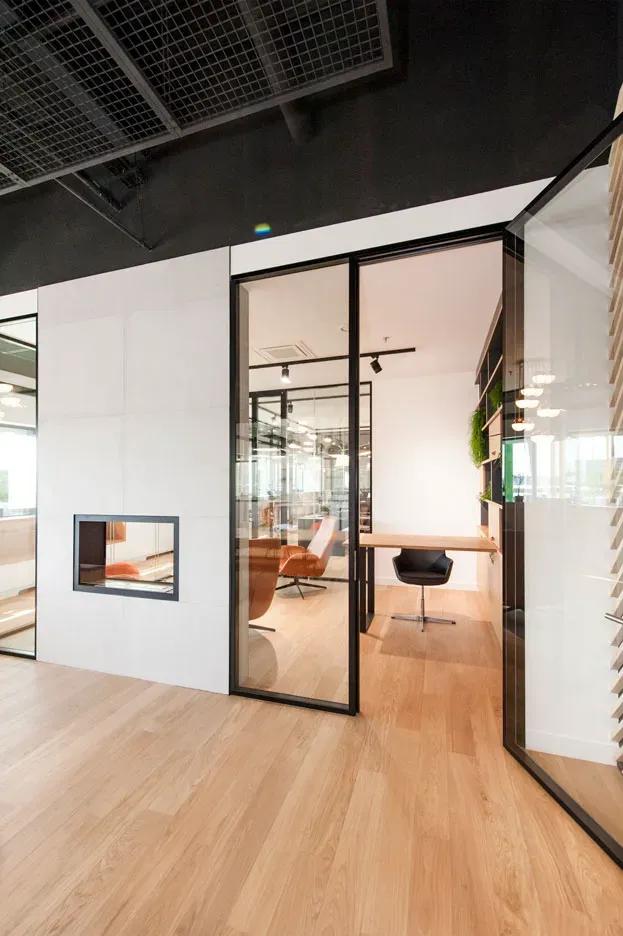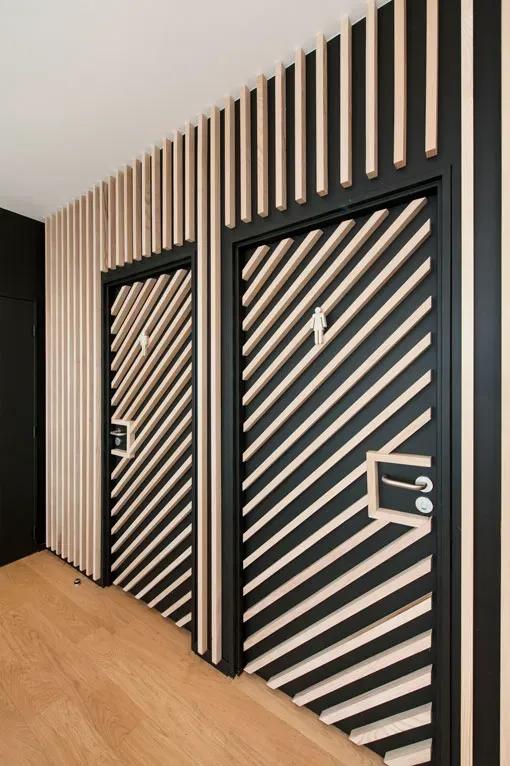 Starting with an empty warehouse is an excellent opportunity to realize a custom-made project.
This exercise does not rely on any existing system and therefore requires a specific expertise and vision, a preliminary study as well as a perfect coordination between the customer and the different work trades. Everything starts with the product: 1400 m2 of storage and distribution space for fruit and 500 m2 dedicated to the worldwide distribution of these products. Tout part du produit : 1400 m² de surface destinée au stockage et à la distribution de fruits et 500 m² consacré à la vente des produits à travers le monde.
NETA is a market place, which the first part of the space is entirely dedicated to. It is a trading place where sales, transport and exchange of products are organised. It welcomes the group's employees, sales representatives, distributors and other participants of all kinds. The architecture and design responses were conditioned by the wide range of working hours in this profession, offering a space dedicated both to work and also to employees' rest periods.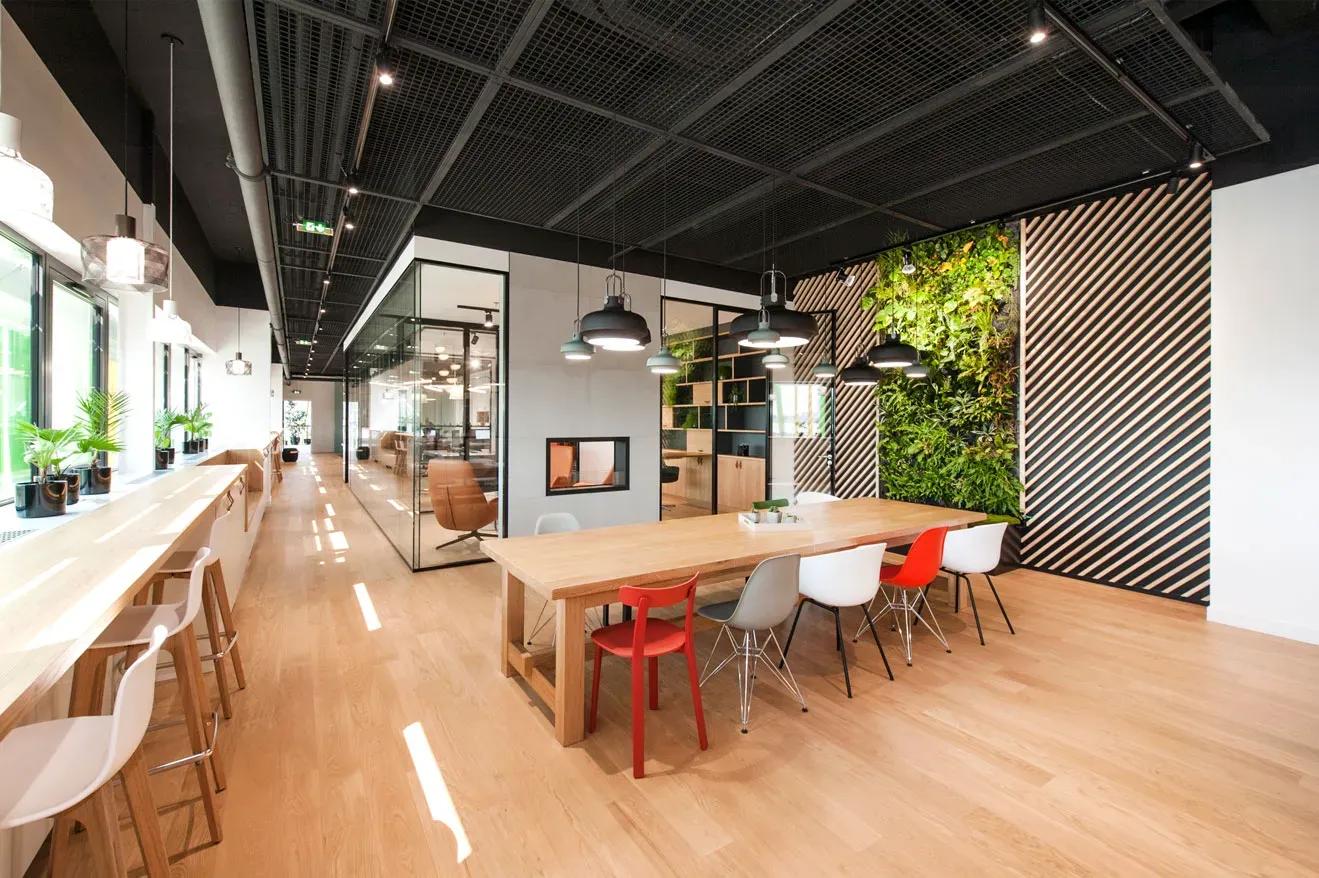 A particular workspace.
The entrance hall has been redesigned to improve the reception, support and comfort for visitors. Upstairs, the floor opens up to a first area which is dedicated to performance. The market place or open space is filled with 2 desks with 14 people for product trading and logistics management. The team is facing a touch screen wall that permanently connects them to their shipping platform and warehouses which are located in Marseille. Delimiting space without isolating oneself from others: this is the challenge of a workspace that offers everyone sufficient privacy, without neglecting the communication between the rooms and thus the teams.
In the centre of the space, an independent block houses the executive office and the meeting room, which are built around a warming fireplace. These allow for the comfort and reception of guests and for confidential meetings. High ceilings are a luxury that is often sought after but also has disadvantages. We have therefore installed half-height fences to provide support for plants, lighting and also acoustics. All this guarantees visibility and light while at the same time warming up the space.
A place of life.
The second part of the office is entirely devoted to the comfort of the employees, it offers various spaces for the teams, all soothing and welcoming.
There is a professional kitchen open to a fireplace and a master's table, it serves for breakfasts and lunches among employees. This area is both the place of life for the whole team but also a gathering point for many events, it allows in the reception and involvement of kitchen chefs or external animations. A relaxation and rest area have been created to allow the recovery of teams who are working in different time zones.
---
Summary sheet

---
Engaged Expertises
Furniture and Decoration.
Refurbishment.
---
Next design
---
Boulogne-Billancourt // 1500m²
MWM
---